Credits
HitchHikers Guide to the Galaxy: Casting Call
Don't Panic! The Beeb is reporting that they are casting for the movie version of The Hitchhiker's Guide to the Galaxy.
Excerpt:

"Love Actually" star Bill Nighy and Martin Freeman (Tim from The Office) are set to topline sci-fi comedy The Hitchhiker's Guide To The Galaxy.

Talking exclusively to BBCi FILMS, Nighy says he's been cast as alien planet designer Slartibartfast in the long-gestating adaptation of Douglas Adams' novel. Freeman will play Arthur Dent, the everyday Earthling thrust into an interplanetary adventure.

Nighy also states that a director isn't set yet, although hotshot music vid team Hammer & Tongs (aka writer-director Garth Jennings and producer Nick Goldsmith) were on board last High Noon heard. Fingers crossed, it sounds like this could finally liftoff.
by GilbertZ | Leave or Read Comment(s) (0) | Links to this Entry (0)


Modest proposal for Music Companies
No matter what they do, music sales keep plummeting. The only solution they've got left is to open the floodgates, allow P2P to take over and make free music ubiquitous but simply make money through product placement *within the songs*. I can just see the future lyrics now:
"They paved Paradise, and put up a parking lot.... Don't it always seem to go, you don't know what you've got till it's gone, have a coke and put up a parking lot...."
by GilbertZ | Leave or Read Comment(s) (1) | Links to this Entry (0)


ABC, 50 years old
ABC is 50 years old already. They will be having a celebration on the 19th featuring:

- Cast reunions from ABC's most beloved series, including Welcome Back Kotter, Happy Days, Laverne & Shirley, The Love Boat, The Mod Squad and NYPD Blue, among others.
- Fifty years of historic news events presented by such ABC news figures as Barbara Walters, Hugh Downs, Diane Sawyer, Peter Jennings, Ted Koppel, Charles Gibson, Joan Lunden, David Hartman and others.
- Unforgettable moments and tributes from the world of sports, including appearances by legendary sports figures like heavyweight boxing champion Muhammad Ali, football All-Star great Joe Namath, sports announcers Al Michaels, John Madden and Jim McKay, Olympic gold medalists Carl Lewis and Dorothy Hamill and many others.
- Oprah Winfrey and Richard Chamberlain present unforgettable scenes from ABC's most acclaimed movies and miniseries.
- Clips from ABC's favorite comedy and drama series past and present.
by GilbertZ | Leave or Read Comment(s) (3) | Links to this Entry (0)


Maria Callas personal letters sold at Auction
BBC NEWS: Callas letters sold to mystery buyer
Private letters revealing opera star Maria Callas' desire for revenge after she was jilted by billionaire Aristotle Onassis have sold at auction in Rome. The letters fetched more than £4,000 at a Christie's auction on Wednesday, selling to a mystery bidder.

Eleven lots of the opera singer's letters and photographs sold for £13,000, much more than was expected before the sale.

Days after Onassis wed the widow of assassinated US President John F Kennedy in October 1969, Callas wrote: "It's cruel, it isn't true - both should pay and both will pay, you'll see."

Callas died alone, depressed and unfulfilled, in Paris in September 1977. She was 53.
Onassis, who had once given her a $1m diamond ring, died in March 1975.
Written as her nine-year affair with Onassis was collapsing, Callas' letters also touched on the disillusion she felt and her battle to lose weight.
by GilbertZ | Leave or Read Comment(s) (0) | Links to this Entry (0)


Nostalgia
Watching the trailer for Auto Focus, which I haven't had a chance to see yet, brought back some memories, due to not only Bob Crane a.k.a. Hogan, but Seeing Ron Leibman there... Anyone ever catch the short lived Kaz?

Or remember any of these?:
Moonlighting
Sword of Justice with Dack Rambo of Dallas, as Jack Cole handing out those 3 of spades... Larry Hagman was in the pilot and Belinda Montgomery was in the second episode.
Remember Man From Atlantis with Patrick Duffy and the webbed hands and feet? Belinda Montgomery was in that one too. As was Victor Buono. Victor Buono was a great villain for the fun original Wild Wild West against Ross Martin and Robert "I dare you to knock this battery off my shoulder" Conrad.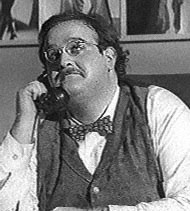 Or the original TV version of Mission Impossible.
Anyone recognize this guy from SWAT?
Or any of the versions The Paper Chase with the brilliant John "We make money the old-fashioned way, we Eeeeeaaaarrrrnnn it" Houseman? The movie version starred Lindsey "Bionic Woman" Wagner....
Also fun was The Six Million Dollar Man, I still remember the original song before the show was repackaged and redone...there was later a reunion show with Sandra Bullock.

The Greatest American Hero was fun and finally, before the current Saturday Night Live, anyone remember the variety show Saturday Night Live? If I recall correctly, it starred Howard Cosell....

by GilbertZ | Leave or Read Comment(s) (0) | Links to this Entry (0)


George Lazenby makes an appearance
George Lazenby made an appearance at the most recent grand opening of Die Another Day, the latest James Bond movie. Although you can argue about his performance as Bond, if you actually watched the movie, it was perhaps the best Bond Film from all of them. Although Goldfinger was great, and Spy Who Loved Me was the best of Roger Moore, Her Majesty's Secret Service was fun as a Bond Flick but was actually good as a Spy Flick too... it's worth renting for sure...

by GilbertZ | Leave or Read Comment(s) (0) | Links to this Entry (0)


Joe Pantoliano may be gone from Sopranos, but he appears in Daredevil



Joe Pantoliano is gone for good from Sopranos, but you will be able to catch him in Ben Affleck's turn as DareDevil. I liked this comic book when I was younger. Some talented people worked on it, including Frank Miller if memory serves...

Some other movies coming soon:

Gigli during the filming of which Affleck met and finally proposed to Jennifer Lopez..

Star Trek Nemesis without blogger Wil Wheaton who announced on his blog that his scene was cut...

Dumb and Dumberer a prequel without Jim Carrey and Jeff Daniels ...

Batman Year 1, screenplay by Frank Miller which is a good sign...

Once upon a time in Mexico, the third in the trilogy of El Mariachi & Desperado, this film will have an all-star cast including Antonio Banderas, Pedro Armenduriz, Ruben Blades, Willem Dafoe, Johnny Depp, Salma Hayek, Enrique Iglesias, Marco Leonardi, Cheech Marin, Eva Mendes, Mickey Rourke & Danny Trejo...

XMen2 with Patrick Stewart, Hugh Jackman, Famke Janssen, Halle Berry, Brian Cox, Alan Cumming, Bruce Davison, Kelly Hu, James Marsden, Ian McKellen, Anna Paquin, Rebecca Romijn-Stamos, Shawn Ashmore, Steve Bacic, James Bamford, Daniel Cudmore, Shauna Kain, Michael Reid McKay, Cotter Smith, Aaron Stanford, Katie Stuart, Connor Widdows, Peter Wingfield & Kea Wong...

American Wedding which is the third in the American Pie Movies..

The Hulk which features a cameo of Lou Ferrigno who can be seen this month on HBO in the Pumping Iron movies... Sam Elliott and Jennifer Connelly will star... boding well for the movie is that it will be directed by Ang Lee of Crouching Tiget Hidden Dragon acclaim...

Arnold says I'll be back for Terminator 3...

and in the farther off future is The Amazing Spider Man 2

and even though Harry Potter 2 is now playing, Part 3 Harry Potter and the Prisoner of Azkaban will be in theatres in 2004.


by GilbertZ | Leave or Read Comment(s) (0) | Links to this Entry (0)


Jennifer Lopez, Her Ring, Her Engagement & Journalism



I've been following the Jennifer Lopez engagement story because I wanted to get a good picture of her pink diamond ring for our readers. Well, now that she's "officially" engaged, you will be able to see her flash her ring on Primetime Live tonight.

Now I'm not going to get cynical as some others might try to make a connection to her engagement announcement at this time being fortuitous since she is releasing a brand new album on November 26....but I will say that I was surprised that people find it compelling tv to watch Entertainment Tonight. I happen to be flicking the channels as I saw a story on JLO come on...and really couldn't believe my ears to hear Mary Hart have an exclusive phone interview with Diane Sawyer, who had an exclusive interview with Jennifer Lopez.

by GilbertZ | Leave or Read Comment(s) (16) | Links to this Entry (0)


Sopranos: a bit too graphic



I missed the first few minutes of the Sopranos last night because I went to see Femme Fatale with Rebecca Stamos and Antonio Banderas (mostly due to hearing that the plot revolved around diamonds). So I missed the beginning of the show with the other Antonio...Antonio Soprano...and I didn't find out why Ralph broke up with the character played by Leslie Bega (I think her character is called Valentina?)....

Anyways, it turned out to be a rather violent show. Interesting to see how society and culture changes in your lifetime. When I was a kid, I remember how scary Jaws was and I wondered if it would be too scary for me to see in the theatre. I saw it much later on video. Today they would probably censor the nudity, but other than that, it would and has been shown on TV without much if any violence removed. Nothing in the Jaws movie touches what was on cable TV on the Sopranos last night.

I could have done without it. I suppose the producers put it in because they wanted to show how brutal some criminals can be and to balance out the parts where they are likeable characters. As if to say, hey, these are still gangsters... Somehow the Godfather had some very graphic moments too, and heavy drama. Perhaps I still feel that since the manner this is brought to me is television, albeit cable and not a movie theatre, I expect a certain restraint...which made it more graphic (and effective?).

by GilbertZ | Leave or Read Comment(s) (1) | Links to this Entry (0)


Richard Harris
72 year old Richard Harris passed away...
BRIT ACTING LEGEND DIES

Actor Richard Harris has died at University College Hospital in London, a spokesman for the family said.
"With great sadness, Damian, Jarid and Jamie Harris announced the death of their beloved father Richard Harris.
"He died peacefully at University College Hospital, London, at 7pm today," the spokesman said.
The 72-year-old actor had been receiving treatment for Hodgkin's Disease at the hospital after falling ill earlier this year.
by GilbertZ | Leave or Read Comment(s) (0) | Links to this Entry (0)


Catch me if you can



I was shocked tonight to see a trailer for the film Catch Me if You Can. I read the book years ago. It was excellent and illustrated a long time ago the lack of security on the airlines among other things. I never met anyone who actually read this book besides me, so it's surprising to see a decade later that Steven Spielberg made it into a movie with Tom Hanks and Leonardo. Even though he's not my favorite actor, from the clip he seems to do a good job at looking the part.

by GilbertZ | Leave or Read Comment(s) (0) | Links to this Entry (0)


Reality TV? You mean "Cheaters" Cheats?



OK, is reality TV supposed to be real? The TV show Cheaters was caught cheating. They apparently hired people to act out the episode. So in a way, it is reality. The show is called Cheaters and that's what they did.

Does anyone actually believe any of the reality shows are real? I haven't seen more than a couple of minutes of any of them but I never much believed them. I got confirmation when a friend of mine was discussing another friend who was a body double on Survivor. Huh, you ask? Body double? But that's a reality show?? :)

by GilbertZ | Leave or Read Comment(s) (0) | Links to this Entry (0)


May 2007
Sun
Mon
Tue
Wed
Thu
Fri
Sat
1
2
3
4
5
6
7
8
9
10
11
12
13
14
15
16
17
18
19
20
21
22
23
24
25
26
27
28
29
30
31